8Aspen Cooks: Recipes from The Thrift Shop of Aspen
$24.95 (plus shipping & handling)
Buy this book by stopping by The Thrift Shop of Aspen
or buy it online and we will ship it to you!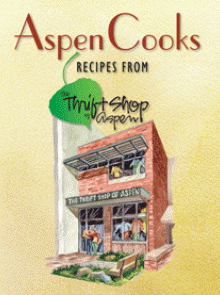 A collection of delicious recipes from The Thrift Shop of Aspen. Many recipes are from local eateries or prized family favorites. All recipes have been tested and are rated Easy, Intermediate, or Difficult, defined by symbols found on ski slopes. Black Diamonds are the most difficult! This unique cookbook contains many photographs and a number of paintings of Aspen scenes. There is an extensive index so your favorite recipes or ingredients can be found quickly.
Proceeds from sales of Aspen Cooks will benefit The Thrift Shop of Aspen whose mission is to sell donated goods at affordable prices, to engage in community building activities, to make grants to other non-profit organizations in the Roaring Fork Valley and to provide scholarships to Roaring Fork Valley area High School graduates.