Congratulations to our 2017 scholarship recipients! Each year the Aspen Thrift Shop awards scholarships to graduates from Aspen, Basalt and Roaring Fork High School.
Congratulations to Margarita & Clayton from Basalt High School!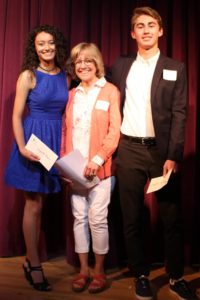 Margarita Alvarez  is young woman who has shown determination and perseverance.  She has participated in the Pre-Collegiate Program and is a Folklorica dancer as well as on the Folklorico Leadership team. She is on the volleyball team and has been class treasurer since 9th grade. She has been an intern at the Wyly and is a valued part time employee at her current job.
Congratulations to the co-valedictorian of Basalt High School's 2107 class, Clayton Montgomery. Clayton Montgomery has also shown outstanding participation and promise. He is a member of National Honor Society, and is involved in many activities including baseball, Capstone Project, Yearbook, and Link Crew. In addition, he helped to build a cabin for a senior citizen and has excelled academically. He will attend the University of Colorado Boulder Honors Program.